Cassette Split System Air Conditioners
Why have a cassette air conditioner?
A cassette air conditioner is often the best system for when there is no available wall space to mount a hi-wall split system or there is limited ceiling space for a ducted system. Cassettes are commonly used for larger areas than in the home, primarily because they take up a large amount of space on the ceiling. As a ceiling in the home is normally comprised of beams and joists, there may be significant limitations as to where the cassette can be safely mounted.
Joe Cools can advise you on the correct sized cassette air conditioner for your needs and that you are not purchasing an over or under sized system.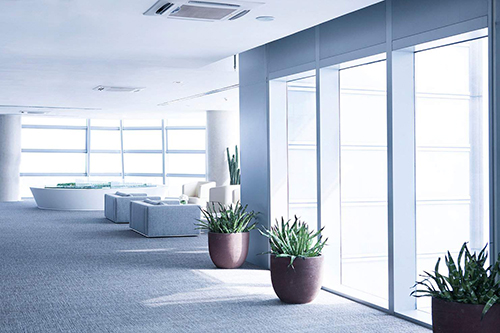 How do split system cassette air conditioners work?
Cassette air conditioners are very similar to wall split air conditioners, except they are mounted in the ceiling usually in a central location to distribute conditioned air through two, three or four sides of the unit. Cassette air conditioners work the same way as a hi-wall split system, except that cassettes are mounted on the ceiling instead of the wall. The cassette fits flush to the ceiling with a grille showing and the unit is concealed in the roof space. As with the other wall split systems, the compressor unit of a cassette air conditioner is located outside.
This air conditioner is reverse cycle and uses the same technological principal to heat and cool as the ducted reverse cycle air conditioner.
Good to know pointers about cassette split system air conditioners
Where to use cassette split systems
Generally installed in commercial buildings, hotels, cafes and office spaces as they are often selected to serve large areas.
They are well suited to circumstances where wall split systems or other system types may not be suitable options.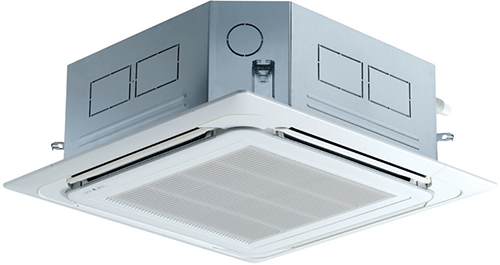 Installation & operation of a cassette split system
Installation usually complete in one day.
Limited installation options.
Low profile, less visible to the eye as they are mounted overhead and therefore tend to be less obtrusive.
Not particularly suitable for decorative and ornate ceilings if these are architectural features or are of historic significance.
Wall touch pad / remote control options
Adjustable thermostat so temperature control is easy and can be set to a preferred temperature.
Cost of cassette split system air conditioning
Higher installation costs compared to wall-mounted split systems.
Environmental benefits of reverse cycle air conditioning
Filters and cleans the air.
Modern units have low operational noise levels.
Modern units use refrigerants which impact less on the environment.
They're very efficient and are particularly useful in humid hot summer conditions as they also dehumidify the air.
If you have any questions just give us a call on: 0412 820 271 or send us an email; we're happy to chat.