Choosing an Air Conditioning System
STEP 1 - Free Quotation
Joe Cools can provide you with a free quotation by an experienced tradesperson who has Air Conditioning design and installation experience. Joe Cools will inform you about what the most appropriate and economical air conditioning system is for you.
Joe Cools may visit on-site to see what the job entails:
Discuss your air conditioning needs and requirements,
Look at the house design and architecture,
Consider access requirements for installation, and
Provide a written quotation outlining an air conditioning system and price proposal for you.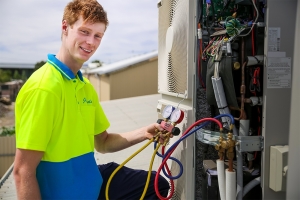 Alternatively, you may prefer to email a floor plan and photos to discuss and request a quotation.
From day one, the right system along with a professional installation will help reduce your system's service requirements and your expenses for the future.
STEP 2 – Air Conditioning Advice
There are numerous heating and cooling Air Conditioning brands on the market. Choosing the perfect solution for your home or office can be confusing if not overwhelming.
Joe Cools can help advise and guide you through the process, and the outcome will be an air conditioning system that is precisely what you need without any upselling. Whether you require heating and cooling for a room or throughout your home, we can ensure you'll be comfy from winter to summer.
STEP 3 – Choosing an Air Conditioning System
*Choosing an air conditioning system is more than selecting what is currently advertised as the biggest, the best or any brand 'specials' as these will always vary according to the salesperson – and then there are the 'add-ons'.
The biggest clear-cut difference between all the different air conditioning systems is really the quality and thoroughness of the installation. Joe Cools offers a high level of professionalism provided by our technicians who are experienced licensed tradesman and provide a terrific installation servce.
A Joe Cools air conditioning installation is comprised of:
Design and budget: A specialist determines what materials, how it is configured, where equipment is to be located and installed, access points, etc.
The air conditioning unit: Size, model, durability and reliable manufacturer, energy efficiency, noise level, visual appeal and your budget.
The Installation of the unit as part of the total air conditioning system.
Ductwork - including zoning selection, vents and grilles.
Other components: Positioning of control panels, return air grilles, air flow vents, pipework, undertaken by licensed personnel using compliant installation techniques for refrigeration and electrical works.
Useful Joe Cools post-installation materials and access to videos about air conditioning maintenance and warranty service.
BRANDS - What's the difference between brands?
There are literally hundreds of air conditioner brands to select from and not all brands are satisfactorily supported in Australia.
Joe Cools only aligns with air conditioner brands and components that are well-known quality products backed by warranty and offer a price advantage for you. We only deal with brand companies that have Australian based corporate offices and manufacturer agents that can provide warranty service to replace or repair your air conditioning unit quickly should it malfunction.
Joe Cools only selects and installs brands that have:
High efficiency,
Quiet indoor and outdoor units, and
5 year Residential Warranty and back-up service.
We specialise in installing Panasonic, Mitsubishi, Samsung and Actron, however if you have another preferred brand we can usually supply and install that for you.
It is important to know that most well-known air conditioning unit brands perform the same functions. Your choice may come largely down to your budget and personal preference.
If you are guided by a budget, then certainly some brands are at a lower price point than others, and some at times may be offering a price advantage.
Also, some air conditioning units are easier to install and maintain, which cuts costs, while other brands offer specialised functions, such Wi-Fi options, which allow you to control your air conditioner remotely.
Be aware that the most expensive brands are not necessarily the most efficient or reliable, or have the best warranty service.
Air Conditioning Installation
Joe Cools can help you choose the correct and most economical system for your home. From day one we will provide you with not only effective and efficient heating and cooling, but reduced costs and service requirements for the future. We have air conditioning solutions for everyone, be it a single room, multiple room or whole-of-house cooling.
You can learn more about how different types of air conditioning and cooling systems work in our Types of Air Conditioners Guide outlined on the home page or click on the tab at the top of the page for Air Conditioner Types.
Types of heating & cooling systems we offer:
Ducted Reverse Cycle Air Conditioning
Split System Air Conditioning
Evaporative Air Conditioning
Ceiling Cassette Air Conditioning
Multi-head Air Conditioning Systems
Roof Package Air Conditioning - Commercial application