Multi-head Split System Air Conditioning
Why have multi-head split system air conditioning?
This system can be used where there is insufficient room to install ductwork in the roof/ceiling space. For example a cathedral roof or a flat roof building.
How does multi-head split system air conditioning work?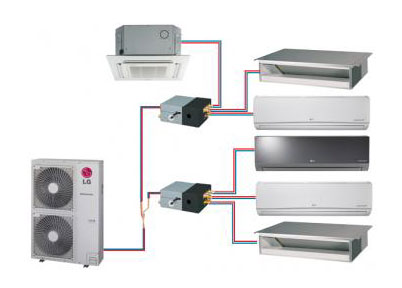 Multi-head split system (or multi-head) is comprised of a number of indoor wall split air conditioning units that are powered by a single outdoor unit.
This air conditioning system is reverse cycle and uses the same technological principle to heat and cool as the ducted reverse cycle air conditioner.
Good to know pointers about multi-head split systems
Where to use multi-head split systems
Frequently used when there is insufficient room to install ductwork in the roof/ceiling space.
Used to air condition multiple rooms
Valuable to use if there is limited outdoor space, as there will be only one outdoor unit required for several indoor Air Conditioning units.
Installation & operation of a multi-head split system
Installation may take one or more days depending on size of system.
Higher Price Point – It generally costs more to buy and install a multi-head air conditioning system than a ducted system.
A failure on any part of the system can render the entire system inoperable.
Stock is specifically ordered in as it is far less popular than other air conditioning systems.
With several indoor units and only one outdoor unit, Multi-head Split Systems require additional runs of refrigeration pipework and electrical cable outside as the system is run from one outdoor unit to many indoor wall units.
Remote control / wall touch pad options
Adjustable thermostat so temperature control is easy and can be set to a preferred temperature.
Cost of multi-head split system air conditioning
Careful consideration should be exercised given the cost of a multi-head system may come in higher than multiple wall splits, due to the production costs of the wall splits being considerably lower.
Environmental benefits of reverse cycle air conditioning
Filters and cleans the air.
Modern units have low operational noise levels.
Modern units use refrigerants which impact less on the environment.
They're very efficient and are particularly useful in humid hot summer conditions as they also dehumidify the air.
If you have any questions just give us a call on 0412 820 271 or send us an email; we're happy to chat.